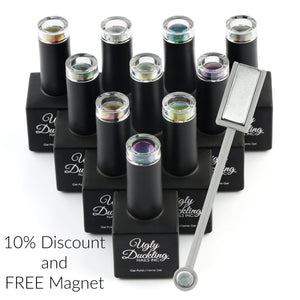 New Nails
4D CAT'S EYE GEL POLISH 10PK
Með öllum gjöldum
All 10 NEW Cat's Eye polish 10% OFF and a FREE magnet!
These 4D polishes are sheer, so the multi color prisms show better over a base color. Apply full coverage over your Ugly Duckling Gel Polish color, or use our magnet to create a myriad of beautiful designs. 
* Hint: Move your magnet slowly towards the nail and watch your polish transform.  If you are just learning, you can brush out the gel color and retry before curing, without any adverse effects.
*Photos are over a #43 black gel polish base
---